The Coronavirus Pandemic
Is  it a sign of the end?
Could it be the first event of the Great Tribulation?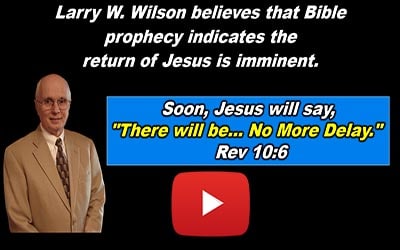 Endtime Ministries: Revelation Prophecy Explained
Welcome friends! I have an urgent message for you:
Earth is a spacecraft in trouble (see: Asteroid Impacts). Given the population explosion over the past thirty years, our planet's finite resources are dwindling faster than imagined. Famine is a growing concern. Health care is almost non-existent in much of the world. Drinking water is scarce in places. Sexual immorality and sexually transmitted diseases are rampant. Great calamities are taking place more frequently. It's as though the infrastructures of our delicate spacecraft are heading into to a swirling vortex and the final implosion is just before us.
There IS a way out of the nightmares we face! The book of Revelation reveals that Jesus has a plan of rescue. The rescue will be dramatic to say the least. A drama of overwhelming proportion is before us. The climax of the Great Tribulation will be the revealing of Jesus Christ, the only Savior of mankind. Even though many Christians believe the saints will be raptured to Heaven before the Great Tribulation begins, the Bible reveals a much different story. In fact, one of God's purposes for the Great Tribulation is the testing of the living to determine who really is a saint! If salvation comes through faith in Jesus, then a test of faith and loyalty will prove who has faith in Jesus. (See Revelation 6:9-11.)
Learn How Events Will Unfold & How to Prepare
If you have an interest in the book of Revelation, feel free to request a free download of our most popular book. You may not agree with everything presented in it, but hopefully, it will shed light on information you may not have previously considered. Like it or not, believe it or not, the end of life as we know it is almost here and we want you and your family to be prepared!
Wake Up America Seminars is not endorsed by or affiliated with any religious denomination. We believe, among other things, that salvation comes through faith in Jesus Christ and that the Bible is the Word of God. Of course, a lot of Christians say the same thing, but wait until you read how these two beliefs are about to be challenged!
Or . . . you can order this book in our bookstore (United States only)
You can also contact us via email through our contact page
Articles from Website
This book is unlike any book you have read on the subject of apocalyptic prophecy because it is based on a discovery that revolutionizes prophetic interpretation. About thirty years ago, I concluded there were hundreds of different interpretations on Bible prophecy because down through the centuries, expositors have treated Bible prophecy as a work of
Introduction to Revelation Even though the books of Daniel and Revelation were written about 600 years apart, they tell one story, use the same architecture, and overlap each other. Many people do not realize that the prophecies in Revelation are based on facts established in the book of Daniel. This oversight has produced confusion because
I find that John 3:16 is misused sometimes because the historical context is not appreciated. To support my claim, let's replay the secret conversation between Jesus and Nicodemus within the historical setting of that night. I have taken certain liberties to make the discussion with Jesus more contemporary. See John 3:1-21 for the actual text..
If you have questions or comments, click on the button to send us a message:
WHAT IS WUAS?
Wake Up America Seminars (WUAS) is both a non-profit and a non-prophet organization. With God's blessings and the generosity of many people, WUAS has distributed millions of pamphlets, books and tapes around the world during the past 29 years.
WUAS is not a church and is not affiliated, endorsed or sponsored by any religious organization.
WUAS does not have members nor offers any kind of membership. Our mission is not to convert the world to our point of view. Although WUAS has a well defined view on certain Biblical matters, our mission is primarily "seed sowing." We believe in … WHAT IS WUAS?